Description
SDE-4800 (3RU 48×48 3G/HD/SD-SDI/ASI Router/Multiviewer)

3 in 1 solution with highly-reliable functionalities
SDE-4800 is a modular unified routing and multi-viewer platform that supports up to 48 3G / HD / SD-SDI inputs along with many outstanding capabilities for professional broadcasters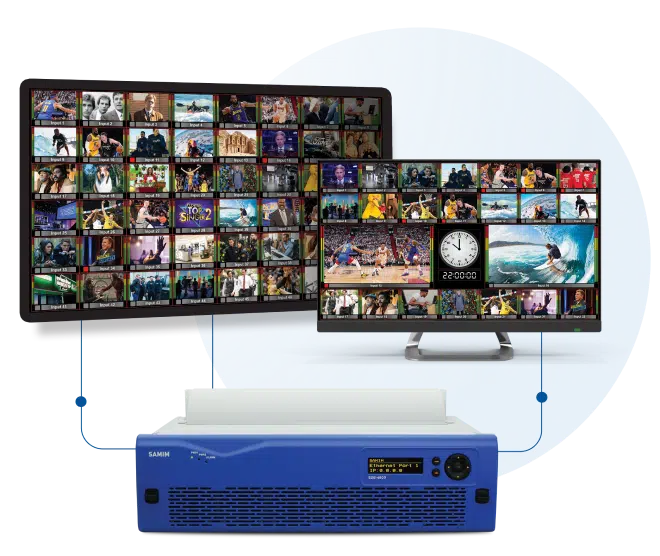 SDE-4800:
3RU frame with 1RU optional external fan with automatic fan speed control
Modular Design
Dual and redundant power supplies
Router:
Support 3G/HD/SD-SDI and DVB-ASI signals
Compatible with Samim router control panels
Re-clocked outputs
Switch point related to the reference input
Clean & quiet switch module
Multiviewer:
Layout design by the Windows-based software
HDMI and SDI output per head
x8 PIPs per head, internally cascadable
x40 Tally input, x8 Programmable GPO
NTP or LTC as clock source
Video fault detection & logging (black, freeze, CRC, unlock, EDH)
Embedded Audio fault detection & logging (absence, silence, overload)
Modular Design
All SDE-4800 components are completely modular. This ensures more reliability and better functionality of the device in a 24/7 non-stop workload.
Flexibility and Scalability
SDE-4800 is a flexible equipment which easily adapts to different needs and requirements of TV stations and production studios in various sizes.
Reliability and Strength
Due to hot-plug nature of Samim modules and mod-ularity of the frames, you would enjoy a reliable and powerful solution in your broadcast infrastructure
Easy Control and Monitoring
All SDE-4800 components, including the frame, the cards, I/O lines, power resources, … can be easily monitored and controlled via a web-based and a friendly user interface.
Customized Multi-View Layouts
SDE-4800 multi-viewer component harnesses a user-friendly and intuitive application for designing and tuning PIP layouts which is accessible through Windows-based systems.
Technical Support + Remote services
SDE-4800 includes professional services via telephone, email, web, local assistance. Technical support, remote upgrades, on-premises trainings, … would also be offerable.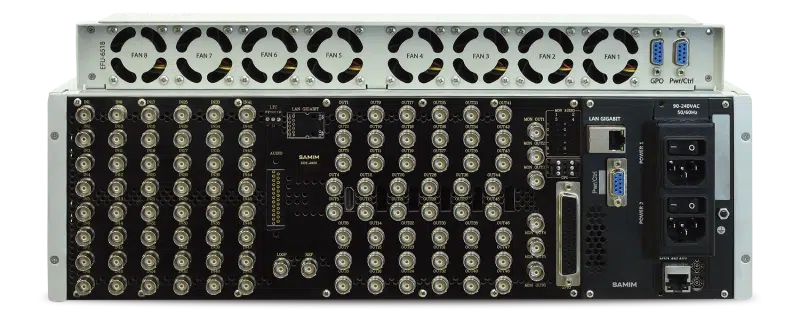 SDE-4800 frame utilizes SDI-IN modules per each, eight input lines are supported. moreover, three different modules can be also utilized to provide the desired types and numbers of output lines:
| | | |
| --- | --- | --- |
| Order Code | Description | Type |
| SDE-4800 | 3RU Router/Multiviewer Frame Supporting Up to 48x 3G-SDI/ASI Input with Base Modules, and Back-panel | Base |
| PSM-6522 | AC/DC 225W Power Supply for 3RU SRM frame | Base/Optional |
| EFU-6518 | External Fan Unit (1RU) for 3RU SRM frame | Optional – Required in case of multiviewer & clean switching |
| SDE-4800-SDI-IN-8CH | 8-Channel Input Module for SDE | Up to 6 input modules per chassis |
| SDE-4800-SDI-OUT-8CH | 8-Channel SDI Output Module for SDE/PVS | Up to 6 output modules per chassis |
| SDE-4800-CLN-OUT-4CH | 4-Channel Clean Switch Output Module for SDE | Up to 6 output modules per chassis |
| SDE-4800-MIP-OUT | Multiviewer Output Module (8 PIPs, 1x Output) for SDE/PVS | Up to 6 output modules per chassis |